Organic Meals/Recipes
| Posted by Scarlet on May 14, 2013
If you broke a nail, would you go straight to the emergency room?  It may sound silly, but we constantly do the same thing with our food! It's all too easy to assume we can't achieve a home-cooked meal quickly without the emergency help of boxes, cans and processed food.  False!
Get Fresh with Your Food
Let's start by kicking the cans out of our lives!  Admit it: how many varieties of "food" have been sitting on your pantry shelves this month? You can find summer peaches and winter pears all year round in the canned goods aisle, but concentrating on fresh seasonal produce doesn't have to mean limiting your diet – in fact, your meals will get a boost in both flavor and nutrition! When fruits, veggies and legumes are packed into cans, tons of sodium, sweeteners and artificial preservatives go in with them, and they are stripped of much nutritional value in the process. Organic frozen or canned produce is better than the conventional stuff, but if you really want to get the best nutrition (and taste!), buying fresh and in-season from a local source is the natural way to go.
Bulgur wheat is the star of one of my favorite Mediterranean dishes. The savory whole grain shines as an alternative to rice (it has more than twice the fiber of brown rice) and is so easy to prepare as either a main dish or on the side. The tomatoes and peppers are also chock-full of vitamins A and C!  Restocking your fridge and pantry may take a little effort, but once you do, you'll be surprised how easy it is to throw together a delicious dinner, like this Tomato Bulgur Wheat Pilaf, from the ingredients you now keep on hand.
Tomato Bulgur Wheat Pilaf Recipe: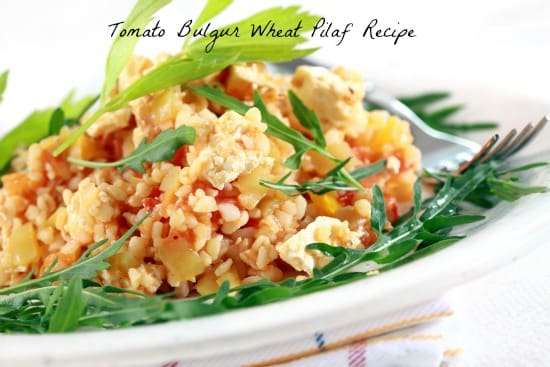 2 tablespoons extra-virgin olive oil
1 medium onion
1 medium bell pepper in your favorite color (or mix colors!)
1 cup coarse bulgur wheat (often labeled #3)
1 cup pureed fresh organic tomatoes
1 tablespoon organic tomato paste
½ cup liquid of your choice: chicken stock, vegetable stock, or water
Sea salt
Black pepper
Tomato Bulgur Wheat Pilaf Directions:
Rinse and drain bulgur wheat and set aside. Peel the onion and dice it and the bell pepper finely. Place a pot over medium heat on the stove; once hot, add olive oil and reduce heat to medium-low. Sauté the onion until translucent. Add diced bell pepper to onion and continue cooking to soften. Add bulgur wheat and stir to combine evenly.
Pour in your chosen liquid, tomato puree and tomato paste, add seasonings to taste and cover the pot, turning the heat up to medium-high. When the liquid boils, turn the heat down to low and simmer, covered, until the bulgur wheat is tender and all the liquid has been absorbed. Serve the Tomato Bulgur Wheat Pilaf with a green salad or next to your favorite fish filet and enjoy!
Remember, the best healthy changes are ones you can stick to in the long-term.  That means taking it gradually and doing your homework.  I spent years researching every ingredient and tool in my kitchen to find the optimal healthy lifestyle and was inspired by the wonderful results to share it with others.  My book, Health On Your Plate, is the quick guide to everything you need to know, from the healthiest cookware and appliances, to essential spices, produce, and ingredients every kitchen should have and how to shop for them. I even uncover eye-opening, little-known food mysteries that will help keep you and your family healthy and safe. And you can look forward to my easy, versatile recipes that help you get creative in the kitchen to make incredibly healthy and delicious meals!
Guest post by Yara Shoemaker who is an ordinary woman with an extraordinary appetite for knowledge about healthy living. She decided to dig deep into the facts of nutrition and health to learn how every bite would affect her and her loved ones. As a result, she created an ideal lifestyle centered on natural nourishment with real flavor. The principles are simple: savor the things you love and keep everything in proportion to be healthy and happy.  Find mouthwatering recipes, healthy advice and more at her blog: Yara's Way!